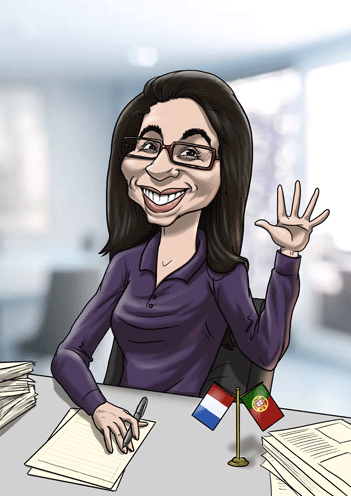 Join Sandra Canivet da Costa to discover the story of an author with both French and Portuguese identity as she writes to transmit to her children the history of their grandparents' country.
My Story
I was born in Paris in 1979. My Portuguese parents taught me that
Portugal was a large and prestigious country. While Portugal was going
through hard times, they patiently awaited better days while working in
France! As a child I was passionate about history. Though I tried to
read children's books in the Portuguese language, I struggled. My
Portuguese was simply not good enough. And so, I carried with me the
frustration of not knowing the glorious past of the tiny country from
where my parents came!
Life moved on. I put my childhood fascination with Portuguese history
to on side. I graduated from Business School and became an entrepreneur
in the building industry. I married and started a family. Certainly,
nothing predestined me to write. Then, in 2016, when the Portuguese won
the Euro football competition, I could detect a little glimmer of pride
in my two boys' eyes. Their father is from the north of France and
before this time they had never considered their dual identity. During
holidays in Lisbon my youngest son, then six years old asked as only a
child can: Why is Portugal, with all the gold in its churches not richer
than France? At the time we used to read novels and educational books
together before sleeping. So, I set out to find a simple book on the
history of Portugal in French. But all were too large (200 to 400 pages)
and had neither images nor drawings. The only ones suitable for their
young age were in Portuguese. I tried to translate but this became
tedious and they got bored. I thought to myself, there must be many
parents and grandparents and indeed their children or grandchildren (as
indeed I once was) who would like to learn the history of their
homeland, though they might not speak her language. With João Serrano, a
young Portuguese designer with a promising career, we embarked on the
adventure of "L'extraordinaire Histoire du Portugal".
My Blog : cadamoste-editions.com/le-blog
João Serrano was born in 1993 and raised in Sintra, in sight of its
beautiful castles and palaces. From a young age he showed great interest
in music and drawing, and eventually enrolled at the Faculdade de Belas
Artes da Universidade de Lisboa (Fine-Arts University of Lisbon), to
study Art Multimedia, where he honed his artistic skills. L'extraordinaire Histoire du Portugal is his most ambitious project to date!
My Story
I was born and raised in Sintra, a wonderful place, full of historic
heritage preserved through the centuries. Like many of the portuguese
families, I'm proud to have relatives living in different parts of the
world, like Switzerland, France, USA, Canada and Chile!
After graduating I soon began working with different clients and
projects in illustration, graphic design and live caricatures! One of
these projects was done for a lovely restaurant right below the S.Jorge
castle, in Lisbon. That's where Sandra Canivet met my work, dining in
front of one of my illustrations decorating the space, while enjoying
the famously delicious portuguese cuisine!
Her contact through my social media page surprised me, and made me
smile : she told me she couldn't find any children's book written in
french about the history of Portugal, so she was looking for an
illustrator to bring her ideas to life! "Attention, i want drawings in a
"geek" style", she said! Her two boys are her first readers, and my
drawings had to please them! When studying, History was one of my
favorite subjects! I loved understanding how countries were born and new
lands discovered. So this was perfect! Matching my interest in the
subject with my ability to draw, I was very honored to be able to
contribute, in my humble way, to the teaching of the history of my
beautiful country to all my young french-speaking fellow citizens. Even
if it wasn't always the case for past generations, my generation is very
aware of the incredible riches that the portuguese diaspora represents
in the world and I'm very glad to bring it to the french-speaking
countries!
Illustrator's website : joaoserranoart.com
Contact Him  :
Facebook : facebook.com/joaoserranoart
Instagram : instagram.com/joaoserranoart